Shoptalk: Forklift Warning Lights
Find the right forklift safety light for your application
Forklift Safety Lights Inquiry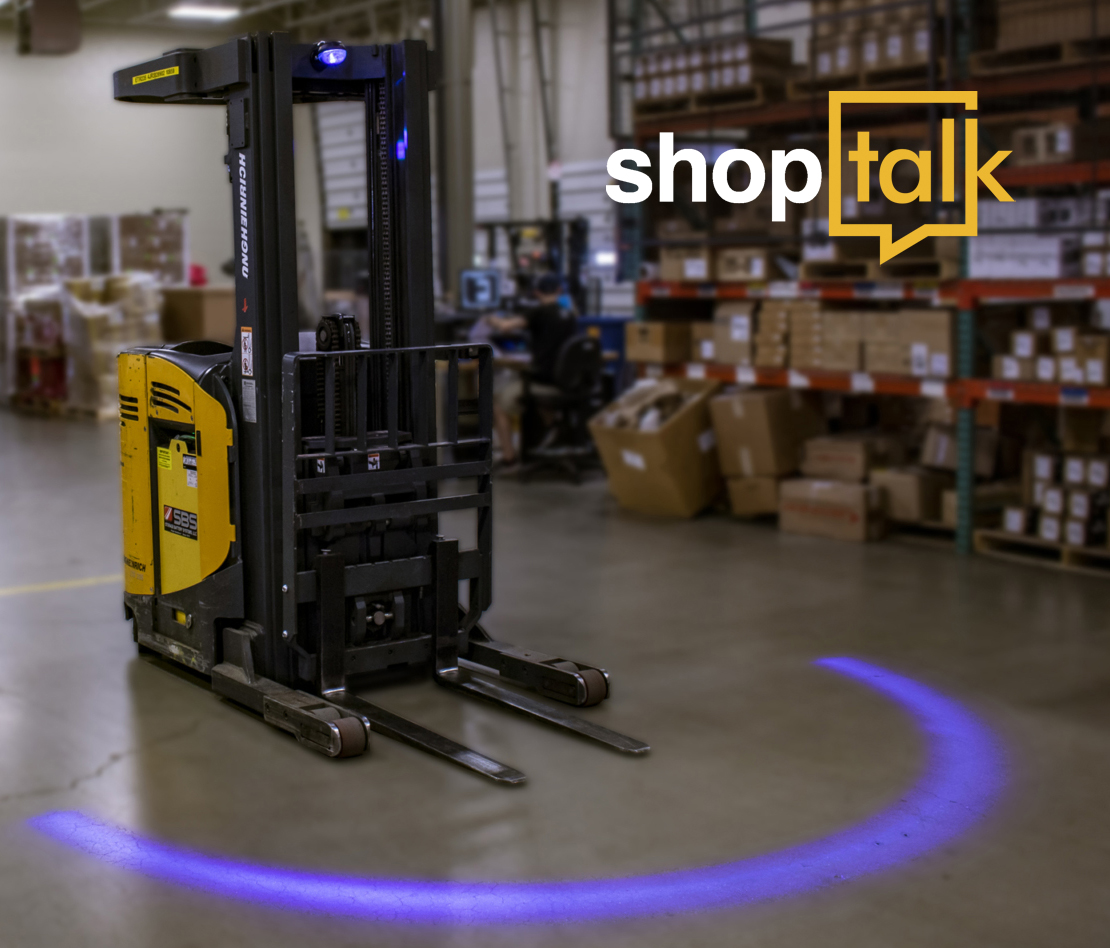 In this installment of Cisco-Eagle's Shoptalk series, Missy, who works extensively with forklift safety lights and other accessories, discusses the different styles and types of forklift safety lights available, and how to choose the right light for your operation. Different styles of lights will bring you different levels of safety and protection. Missy lines out what each type of forklift light will do for you in this video.
With forklifts associated with eye-opening safety statistics (forklift accidents result in nearly 100,000 injuries per year), the need to outfit your equipment with safety features is paramount to reducing the chance for an accident. Forklift safety lights are both economical and effective to help improve the safety of both pedestrians and drivers.
Which type of light would work best? This depends on your situation, safety goals and application.
Types of Lights
Forklift Headlights
Forklift headlights make it easier for drivers to see. Rack aisles, cooler bays and truck trailers are often poorly lit. Headlight illumination reduces low-visibility situations that might cause accidents, injuries or product damage. The primary role of headlights is to increase visibility for your drivers.
Approach Lights
LED forklift warning lights are what you need to warn pedestrians that a forklift is coming. Because people perceive movement on the ground better than at eye level, these lights project a bright blue or red disc onto the floor in front of or behind a forklift as it moves. This light emerges from rack aisles or dark truck trailers a few seconds before the forklift. Eye-level strobes and headlights can blind people, so use floor lights for pedestrian warning. Add audible alarms that work in conjunction with warning lights for a heightened level of warning.
Side Zone Lights
Side zone lights project a red or green line on the floor at the side of the forklift to help pedestrians maintain safe distances. One key thing is that most people can't estimate distances. If your standard is for people to stand 18 inches from a forklift, projecting lines tell them exactly where they should be, which can reduce crushed foot and rear swing accidents.
Arc Lights
Arc lights combine the alert functions of a warning light with the safe zone of a zone light. These systems create a 180° light arc on the ground to indicate the danger zone in front of or behind a vehicle. For enhanced 360° safety awareness, mount a light to the front and back of your forklifts.
Missy, an employee-owner since 2013, highlights what you should be aware of when selecting the right forklift safety light.

About Shoptalk
We're driven to help you identify, specify, and implement the right products and systems for your operation.
Every full-time employee owns shares in the company, is provided detailed financial information, and is trained to provide exceptional service. We think owners provide better service, and we can back it up. Our Shoptalk content is a series of informational posts, videos, and other information. We are empowered to get things done for you, and Shoptalk is just one more way we prove it every day.
More Shoptalks
---
What can we help you with?