Structural vs. Roll-Form Pallet Racks
It's a balance between strength, capacity, convenience and costs - how can you decide?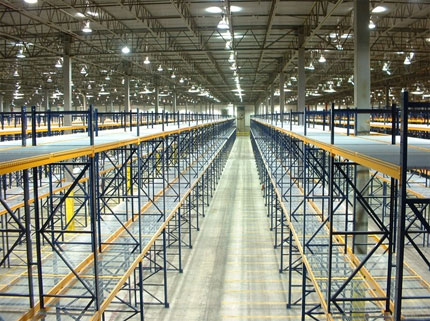 Structural vs. roll-form racks: which fits your application and operation best?
Roll-form selective rack is the standard for many industrial storage operations. It's the go-to rack due to its teardrop assembly, ease of use, and strength. Because it doesn't require bolts or other hardware (aside from a snap-on safety clip) to attach beams to uprights, it's a popular option for selective industrial pallet storage operations. But there is another option: structural rack with bolt-on beam/frame connections, higher capacities and rigidity.
Why would you use structural racks rather than roll-form racking?
Due to its open c-channel beam "hot rolled" construction, structural rack is heavier and stronger than roll-formed. It's the rack of choice for higher density applications like pushback, drive-in, and pallet flow applications. It can also be deployed as selective racks. Use the table below to help decide if your application fits (of course, you can call us for assistance).
| | | |
| --- | --- | --- |
| Factor | | |
| Overall strength and capacity | Very strong – welded connections and heavier steel. For Steel King quick ship structural racks, beam capacities range from 3,200 to more than 12,000 pounds (with a beam tie). Upright frame capacities range from 35,200 to over 51,000 pounds depending on vertical beam spacing. Higher capacities and more options are available. Structural racks tend to offer much higher capacities than most comparable roll-form racks. Due to their strength and rigidity, structural racks are used for very heavy applications like die storage. | Adequate strength for standard warehousing applications. Beam capacities range from 3,100 to more than 8,900 pounds per pair. Upright frames are similarly less sturdy than a structural product. |
| Impact resistance | One goal of a structural system is to help prevent forklifts from damaging the rack. These racks are thicker (particularly at the corners) and weigh more than roll-form systems. This bulkier construction offers improved resistance but also depends on footplate weld strengths and other factors. | Roll form racks are at least somewhat less resistant to impacts than structural racks because they are built with thinner steel, and less of it. However, fully enclosed tubular uprights like those used by some manufacturers, including Steel King Industries, are more impact-resistant than open-back alternatives. See the comparison of uprights above. See "The effect of column shape on frontal impact resistance" (PDF, opens a new window.) |
| Washdown capabilities | Due to its open, c-channel construction, structural racks can be washed down more easily than roll-form racks, where contaminants might be trapped inside the frame. | Can be washed, but not as easily as c-channel structural racks. Both types of rack can be designed for clean area uses. Contact us for assistance. |
| Weight | Heavier than roll-form. | Lighter than structural. |
| Shipping costs | Due to its weight, structural rack costs more to ship than roll form. | Less costly to ship because it's lighter than comparable structural systems. |
| Outdoor use | Used more often outdoors because it's easier to finish these racks in galvanized. | Can be used outdoors, but is less typical. |
| Installation  | Due to bolt connections, structural can take longer to install. Tools are required to tighten the bolts as beams are connected to upright frames. In terms of erecting the structure, bolting frames to the concrete pad, and other installation factors, structural and roll-form racks are comparable in terms of installation time and costs. | Typically, roll-form racks install faster due to teardrop connections, which allow you to snap step beams quickly into uprights. This involves a mallet to set the connection during the installation, and setting the safety clip, but typically requires no other tools. (Safety clips help prevent beams from inadvertently dislodging and lifting during loading or unloading by a forklift). |
| Flexibility | Structural is used for more types of racks (pushback, drive-in, etc). But beam levels are more difficult to adjust post-installation. There are fewer third-party accessories than are available for roll-form racking. | Beams can be quickly adjusted with a mallet and no tools for roll-form, teardrop racking. A broad variety of rack accessories, ranging from drop-in carton flow to decking to security cages and dividers are manufactured specifically for use with step beams.  It's also configured for specialized applications like over-dock storage. |
Cost
Structural racks typically cost more than roll-form racks. For instance, a 42″D x 144″H x 96″W, 3-level structural rack costs significantly more than a comparable roll-form rack. But the structural rack also offers more rigidity and capacity in total and per beam level.
Which fits your application?
When specifying a rack system, it's always best to understand the full range of the application. Both types of racks can be used in a variety of areas, ranging from general warehousing to cold storage to pick modules. Generally, in areas where there are very heavy loads and heavy forklift traffic, structural systems become more desirable. In general warehouse applications, roll-form racks. We can help you specify exactly the right system for your needs.
More Resources

Tags: Heavy Rack Systems, Impact Resistance, industrial storage, racking, Steel King
---
Scott Stone is Cisco-Eagle's Vice President of Marketing with more than thirty years of experience in material handling, warehousing and industrial operations. His work is published in multiple industry journals an websites on a variety of warehousing topics. He writes about automation, warehousing, safety, manufacturing and other areas of concern for industrial operations and those who operate them.
What can we help you with?