Innovations in High Density Storage
Increase storage space with mobile compartments in the pallet rack bay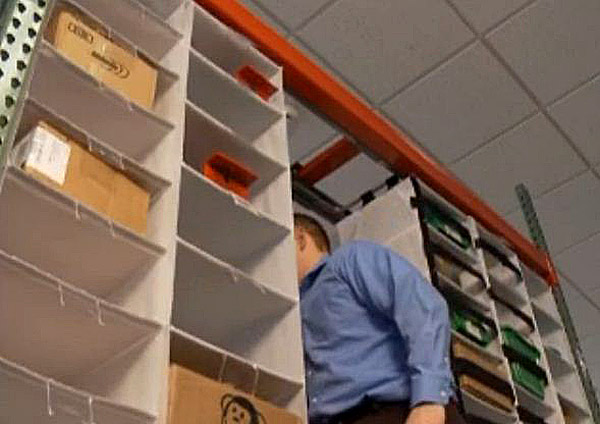 Ever find yourself wondering how you can get more out of your pallet rack? Do you have goods that take up very little space, but your pick operations don't call for entire pallets full of the product? Then you might need to look at ways to achieve more density in your storage, and we've recently found a gem of a product that can help you out. It's called Dynamic High Density Storage and it's made by SpeedCell.
Storage that's more effective in pick operations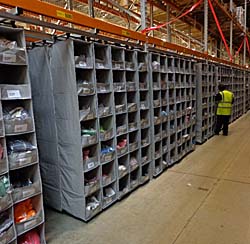 Some companies using this product have outfitted their entire warehouse with dynamic high density storage in all floor level pallet bays. This allows them the capability of storing a greater variety of product at this level while cartons and pallets are stored on upper levels. Since the high density storage is mobile, order pickers can move sections of storage from side to side in order to reach storage compartments deeper in the rack bay.  That's what makes this storage so innovative – it has multiple layers deep as well as high, allowing you to completely fill the bay space top to bottom, front to back with many, many different products.
Compare this to standard pallet rack storage – maybe as many as 4 pallets per bay if you have two levels per bay – meaning only 4 different products per bay. Even if you fill that bay with flow rack or pick shelving, you're still limited to just so many slots – say, 15 to 20 at most. What if you could multiply those slots depth-wise? Now you have cubic density instead of just height and width – giving you the capacity for hundreds of slots. There's no way to do that with traditional pallet rack storage methods.
Putting storage on wheels and tracks makes it happen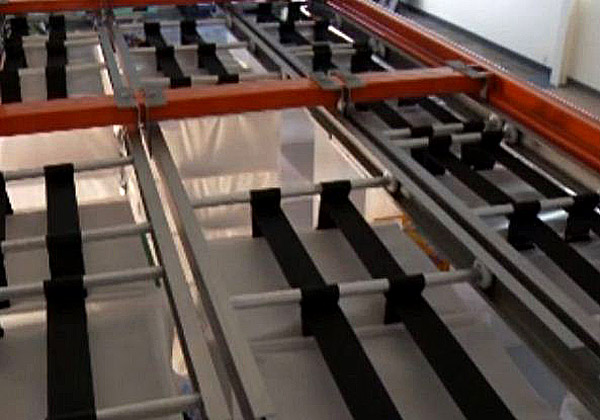 It takes making the storage dynamic to achieve cubic storage access. How is it accomplished? By putting the storage slots on wheels in tracks. This allows the storage slots to be moved side to side in order to reach the deeper slots. Because the slots are made from a tough poly material, they are lightweight and easy to move, providing access to layers up to 4 deep. Additionally, each movable slot has multiple 'cells' or compartments to store product in.
Creating dynamic high density storage for your operation consists of defining the size of the product slots needed and knowing how many slots you will need. The storage compartments are custom made to fit your products. There are options to consider like whether to have an open or lipped front, and open, closed or retaining strap back. The individual product slots are combined into hanging columns of compartments that are hung side-by-side in the pallet rack bay in rows up to 4 deep, bringing your pick storage into a much smaller space.
Operations become more cost effective and productive
Imagine being able to save steps, time and money on picking operations by storing hundreds of different sku's in one pallet rack bay. That's what dynamic high density storage does and does it well.
| | |
| --- | --- |
| Worker steps into dynamic high density storage space | Open back option shown |
Tags: distribution center, industrial storage, order fulfillment, Order Picking & Fulfillment, Pallet Rack, space savings, storage, Warehouse Management, warehouse storage, warehousing
---
Scott Stone is Cisco-Eagle's Vice President of Marketing with more than thirty years of experience in material handling, warehousing and industrial operations. His work is published in multiple industry journals an websites on a variety of warehousing topics. He writes about automation, warehousing, safety, manufacturing and other areas of concern for industrial operations and those who operate them.
What can we help you with?