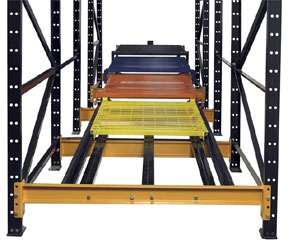 Push back rack operates through a system of carts that ride on rails in the pallet rack. Each set of rails has an incline through which gravity "pushes" all pallets toward the front of the rack. The carts fit atop one another when the bay is empty, and as pallets are placed on carts, previously loaded carts are "pushed back" by each added pallet, hence the name for this rack system. Push back rack is a last-in first-out system that reduces pick time because all pick faces are at the front of the pallet rack. While there are many benefits in using Push back rack, there are also some limitations.
---
This article is part of a series of articles on
Flow Rail
. Click on a link below to view one of the other articles.
How Flow Rail Helps Reclaim Storage Space In Push-Back Rack
---