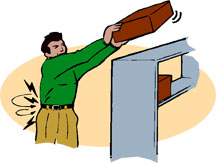 As interest continues to grow in automated palletizing, let's take a brief look at a few of the issues surrounding these applications.
Over the next couple of months, I'll be providing a handful of blog postings relative to palletizers. We will begin with what is driving the growth in the use of these products, then a look at basic systems, cost estimates, what you can expect from a properly applied palletizer system, and then share specifics from a couple of actual implementations in distribution centers. If you are experienced in palletizer systems, you will likely be familiar with much of what is covered here. If you are new to palletizing, or considering your first system, hopefully, this information will help you understand what the issues are and how you can navigate them.
---
This article is part of a series of articles on
Palletizers
. Click on a link below to view one of the other articles.
Palletizers: Ergonomics and Justification Issues
---